Säbyholm Bed & Breakfast
Address

: Säbyholms Gård, 312 93 Laholm
show map
Location: Laholm
Bed & Breakfast | Welcome to Säbyholm, a beautiful mansion in the rural living environment dating back to the 1800s. Säbyholms Farm is located just outside Laholm. By being close to nature, ocean, golf courses, etc. We offer hunting, horse riding and other activities.

Welcome
Cattie & Knut Slettengren
Bed and Breakfast - make yourself at home

Relax and enjoy the serenity of a rural setting outside Laholm in southern Halland. Our personal rooms are decorated in a New England style, and the old Gardener has been renovated and now holds twin rooms one of which can be opened up to family rooms. There are shared kitchen, lounge, shower and toilet.

All rooms have a window into the courtyard landscaped garden. In the garden there are several seats where you can sit down and enjoy the sunset. Maybe watching a hare or deer curiosity.

The farm has a barn so if you want to take your horse and temporarily lease it in a box so it can also be solved.
Contact information
Phone number

Phone number (booking)
Compare "Säbyholm Bed & Breakfast" with similar alternatives
A spacious B&B close to Laholm, Mellbystrand, Båstad, Halmstad etc. Live in your own building in the yard with 2 bedrooms, a big lounge, bathroom and kitchen with a pantry where breakfast including freshly-baked bread is served. A big lawn for games and relaxation.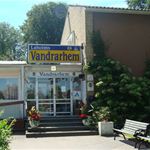 STF Laholm Hostel is a pleasant and well-reputed hostel on the edge of the green city park while still in the centre of Laholm, close to all amenities. The surroundings are peaceful and calm. Open all year round. The hostel is a very popular and good value conference and training centre with perfect conditions, pleasant accommodation, good food – and all at very good prices.
Hotel Freden is located in central Knäred in southern Halland, close to many activities. Halmstad, Laholm and the sea are just a few miles away. The hotel also has good conference facilities for small groups. Hotel Freden was built in 1930 and is named after the peace concluded between Denmark and Sweden in 1613 Knäred after the Kalmar War.